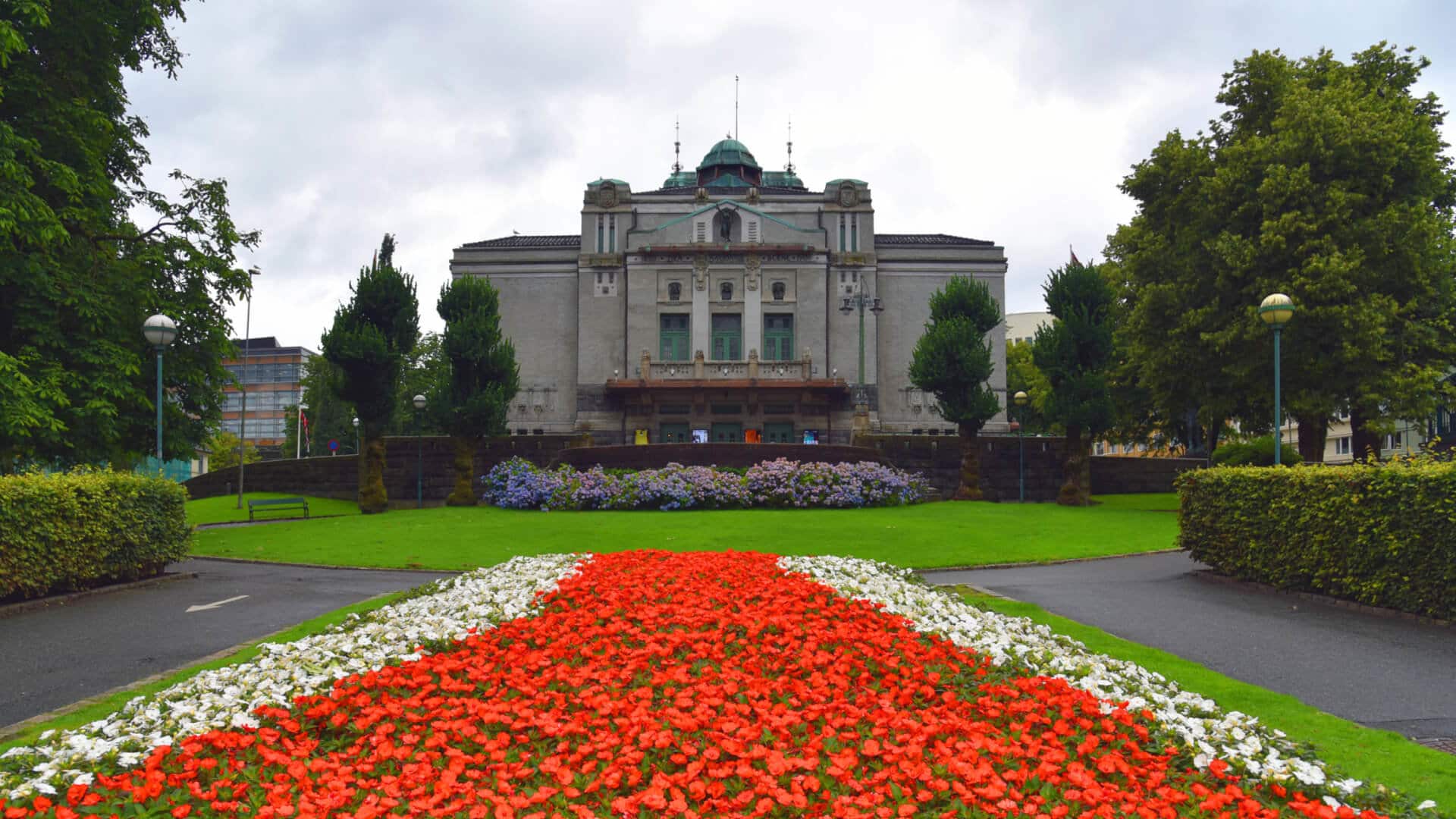 Den Nationale Scene (The National Stage, Bergen) is Norway's oldest permanent theatre with roots dating back to Det Norske Theater (The Norwegian Theatre) founded in 1850 by the Norwegian violinist Ole Bull.
The theatre was founded to develop Norwegian playwrights and Henrik Ibsen was one of the first writer-in-residences and art-directors of the theatre. Today the theatre houses three stages/venues and presents approximately 20 productions each year, both international and national classics, musicals, contemporary drama and children- and family theatre. Den Nationale Scene is one of three national theatres in Norway and has a good reputation for bringing on both contemporary and classical theatre with a close connection to foreign theatre-countries during the time. The theatre is situated in a beautiful Art Noveau-building, from 1909, in the middle of the city of Bergen, Norway's second biggest city. There are around 150 people employed and a company of 40 actors at the theatre.
DNS today
Den Nationale Scene today has an ensemble of 40 actors. Stage decorations, scenery and costumes are created by the theatre's own metal shop, dressmaker-shop, props-department, carpentry-shop, paint shop and papering-shop.
Den Nationale Scene has always occupied a position of high visibility in the Norwegian theatre. A «golden age of the theatre» many call attention to also today is the 1930's, when Hans-Jakob Nilsen was the theatre director. Many of the leading actors of Norway stepped into the limelight for the first time under his leadership. Premiere productions of among others, Nordahl Griegs best dramas were the talk of the town and a sensation in the theatre world. But this was all in keeping with the theatre's long traditions, a theatre where Ibsen and Bjørnson learned their craft, and where Holberg had his ties to Norway. Den Nationale Scene was also the only Norwegian theatre that escaped nazification during World War II.
Den Nationale Scene of today is a completely modern theatre. It is continually at work to refine its technical abilities and artistic ensemble, and lay the foundations for daring, new performances of international format.
Den Nationale Scene is also well known for its strong commitment to children's theatre. Every autumn, the repertoire includes at least one major play for children in addition to the touring theatre programs for the schools and institutions.
Venues
Store Scene (The Main Stage) is the proscenium arch venue and offers up to 450 numbered seats. The main venues repertoire contains musicals, classical plays, family plays and other major productions; The last years from classics such as A Winters Tale (directed by Silviu Purcarete), A Midsummer Night's Dream, both by William Shakespeare (directed by Leif Stinnerbom) and The Wild Duck by Henrik Ibsen (directed by Vibeke Bjelke) to the musicals The Full Monty by McNally and Yazbeck and Funny Girl by Jules Styne, Bob Merrill and Isobel Lennart (both directed by Runar Borge), family plays such as Ronja the Robber's Daughter (directed by Erik Ulfsby) and Pippi Longstockings by Astrid Lindgren (directed Hanne Tømta) and major plays such as 1900. Maskespill and 1900. Maskefall, A city's history, a criminal riddle and a love story through fifty years in Bergen by Gunnar Staalesen (directed by Morten Borgersen), One Flew over the Cuckoo's Nest by Ken Kesey and Dale Wasserman (directed by Bjørn Melander) and Peer Gynt by Henrik Ibsen (directed by Robert Wilson).
Småscenen was designed by architect Halvdan Grieg. It was opened in 1982 as a flexible stage with up to 250 unnumbered seats. In this black box theatre we have over the resent years presented plays like Baal by Bertolt Brecht (directed by Morten Borgersen), A Doll's House by Henrik Ibsen (directed by Yngve Sundvor), By the Bog of Cats by Marina Carr (directed by Kim Dambæk), Don Ranudo (directed by Morten Borgersen), The Idiot by Fjodor Dostojevskij (directed by Alexa Ther) and Alice in Wonderland by Lewis Carroll (directed by Per Olav Sørensen).
Lille Scene has seating capacity for up to 90 persons in unnumbered seats. The entrance to the Lille Scene is on the east side of the theatre. Lille Scene celebrated its 30th anniversary in 1997 and in an intimate setting this stage has presented plays like Cleansed by Sarah Kane (directed by Anders Paulin), The Cold Heart by Astrid Saalbach (directed by Kim Dambæk), The Girl in the Sofa by Jon Fosse (directed by Morten Borgersen), Novecento by Alessandro Baricco (directed by Bjarte Hjelmeland), Mein Kampf by George Tabori (directed by Morten Borgersen), Belgrade Trilogy: Family Stories by Biljana Srbljanovic (directed by Runar Hodne), The Pillowman by Martin McDonagh (directed by Yngve Sundvor) and Dream of Autumn by Jon Fosse (directed by Terje Mærli).
Artistic directors at DNS
Up to 1890, Den Nationale Scene did not have a director. The artistic leader of the theatre had the title of stage instructor. The first of these instructors was Nils Wichstrøm. Gunnar Heiberg was the leader from 1884-88 and in this period Henrik Ibsen presented The Wild Duck to the world (1885).
Den Nationale Scene has had the following artistic directors since 1890:
1890-1895 Johan Irgens Hansen
1895-1898 Olaf Hansson
1899-1900 Hans Aanerud
1900-1905 Gustav Thomassen
1905-1907 Anton Heiberg
1908-1909 Olaf Hansson
1910-1924 Ludvig Bergh
Oct.1924-Aug.1925 Christian Sandal (interim)
1925-1931 Thomas Thomassen
1931-1934 Karl Bergmann
1934-1939 Hans-Jacob Nilsen
1939-1946 Egil Hjorth-Jenssen
1946-1948 Stein Bugge
1948-1952 Georg Løkkeberg
1952-1961 Per Schwab
1961-1963 Bjarne Andersen
1963-1967 Gisle Straume
1967-1976 Knut Thomassen
1976-1982 Sven Henning
1982-1986 Kjetil Bang-Hansen
1986-1995 Tom Remlov
1996-1997 Ketil Egge
1997-1998 Aksel-Otto Bull
1998, Jan. – Feb. Lars Arrhed
1998- 2001 Bentein Baardson
2001 – 2007 Morten Borgersen
2008 – 2011 Bjarte Hjelmeland
2012 – 2019 Agnete G. Haaland
2020 –          Stefan Larsson